MC4Unt
with 2 to 8 drives, wide power range
MC4U: Customized Multi-axis Control Using Standard Components
Integrated motion & machine controller, 8 universal built-in drives and power supply
Units can be networked together to create a fully integrated solution for up to 64 axes and hundreds of I/Os
Wide power range of motor drives - from 100W to 10kW
High axis density
Short lead time for a fully custom-tailored application
Shorter development time, reduced risk, lower cost
ACS field proven robustness and reliability
NanoPWMTM Technology, drives that deliver higher performance and higher power, at smaller size and at better price.
The MC4U is a unique modular complete solution that addresses the tailor-made, flexible machine and motion control needs of OEMs. The MC4U's high performance, Lego-like system combines an EtherCAT controller (for MC4UNT) or drive controller (for MC4UDC), up to 8 universal motor drives, and power supplies with networking to provide a complete machine and motion control solution to demanding motion centric machine automation. Built from standard plug-in components, the MC4U addresses all machine control needs, resulting in shorter development cycle time, reduced risk, small footprint and lower costs.

High performance stems from the fine balance and interaction of the controller software, its hardware interfaces, the drives, the power supplies and the precise integration of all components. Each and every component is designed to deliver performance and the system is tested as a whole to ensure that your most demanding specifications can be achieved. Now many MC4U units and additional ACS and third party EtherCAT components can be networked together, thus creating a single highly integrated system with up to 64 axes and hundreds more I/Os.
The Upright Piano Enclosure - Simple Connectivity, the Right Size
Different enclosure sizes are available to provide the minimum size and volume needed to meet your power and number of axes needs.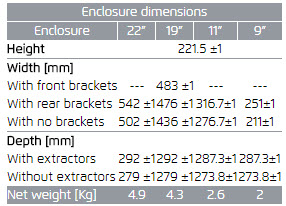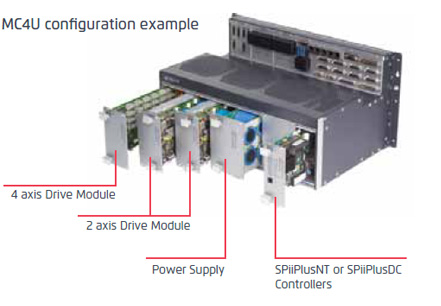 Modularity & Scalability by Design
The MC4U can be configured to meet the needs of your system with regards to number of axes, power, features and performance.
For your specific application you select:
The proper controller - One that is also an EtherCAT Controller (SPiiPlusNT) or just a Drive Controller (SPiiPlusDC) to be managed by an EtherCAT Controller; a high performance one with extensive set of advanced features (HP) or an economical one that reduces the cost (LT).
The set of drives to meet your exact motor type and power needs.
The power supply to meet the motor drives power needs.
The proper enclosure that optimizes footprint.
Powerful Motion and EtherCAT Controllers or Drives Controllers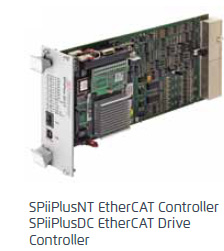 The SPiiPlusNT/DC family of multi-axis EtherCAT controllers (NT) and Drive Controllers (DC) is designed to address the control requirements of the most demanding motion centric applications, such as semiconductors manufacturing, electronic assembly, wafer inspection, Flat Panel Display assembly and testing equipment. The SPiiPlusNT/DC provides outstanding motion performance, sub-nanometer resolution, high speed for maximum throughput, smooth velocity, ease of use, and excellent scalability using an EtherCAT network. The SPiiPlusNT can manage a network of up to 32 axes. (If more axes are needed, then the SPiiPlusNTM or SPiiplusSC can be used). For distributed systems with additional EtherCAT nodes, one unit, designated MC4UNT acts as the EtherCAT controller, using a SPiiPlusNT. supports fast analog Sin-Cos encoders with raw frequencies up to 5MHz. This enables running stages using high resolution laser encoders with sub-nanometer resolution at more than 1 meter/second.
All other units, which are clusters of drives (MC4UDC), include a SPiiPlusDC Drive Controller. If a separate EtherCAT controller is used, such as the SPiiPlusNTM or the SPiiPlusSC, then all units are of MC4UDC type and each one includes a SPiiPlusDC Drive Controller.
SPiiPlusNT Line of Motion and EtherCAT Controllers; up to 32 axes:

SPiiPlusNT-LT - Economical motion controller. All built-in drives are PWM.
SPiiPlusNT-HP - High Performance motion controller. All built-in drives are PWM.
SPiiPlusNT-LD - High Performance motion controller. One to four built-in drives are linear.
SPiiPlusDC line of Drive Controllers; up to 8 axes:
SPiiPlusDC-LT - Economical drive controller. All built-in drives are PWM.
SPiiPlusDC-HP - High Performance drive controller. All built-in drives are PWM.
SPiiPlusDC-LD - High Performance drive controller. One to four built-in drives are linear.
Choose the SPiiPlusNT/DC-HP if one of the following is needed:
SIN-COS analog encoders with high multiplication factor
Special control algorithm, such as Gantry, Input Shaping, Servoboost™.
EtherCAT / MPU cycle <1 msec.
If in addition a linear drive is used, then choose a SPiiPlusNT/DC-LD.
High Performance Universal PWM Drives for the Best Performance With any Type of Motor
The MC4U line of universal digital PWM drive modules is specifically designed to provide a high performance and cost effective solution for demanding multi-axis applications. The drives are optimized for low noise, providing the lowest possible jitter and velocity smoothness and are fully programmable for easy setup and diagnostics. Each drive can be programmed to control any type of single, two or three phase DC brushless motors, AC induction motors, DC brush motors, voice coils, or step motors with open or closed loop control. The MC4U drive modules support linear and rotary motors covering a wide power range of 100W to 10kW. Drive modules with up to 750W per axis, include up to four drives, and modules with up to 5kW per axis include two drives for optimal performance, cost and footprint. Modules with 30/60A (7.5kW) and 45/90A (10kW) include one drive. Drives are available with optional Safe Torque Off (STO) feature to enable machine builders to comply with SIL-3 and PLe safety levels.
PWM Drive Modules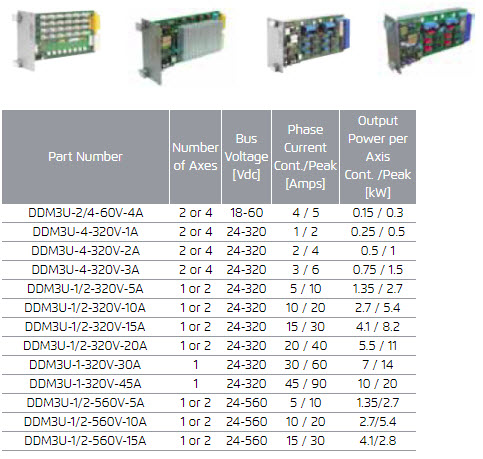 NanoPWM™ & Digitally Controlled Linear Drives for Minimal Standstill
Jitter & Maximum Velocity Smoothness
The NanoPWM™ line of PWM drives is specifically designed for applications with demanding standstill jitter and velocity smoothness requirements. These drives provide currents up to 15A/30A (continuous/peak) at up to 100Vdc. It is the ultimate drive for 450mm and 300mm wafer handling stages, demanding high speed, high acceleration, smooth velocity and sub-nanometer standstill jitter. The LDM line of digitally-controlled universal linear drives is designed for applications with demanding standstill jitter, smoothness requirements and low electrical noise. It provides currents up to 6.25A/25A (continuous/peak) at up to 55Vdc. Combining NanoPWM™ or LDM drives with the powerful ServoBoost™ algorithms is a pre-requisite for achieving sub-nanometer standstill jitter and minimal settling time into the nanometer range.
NanoPWM Drives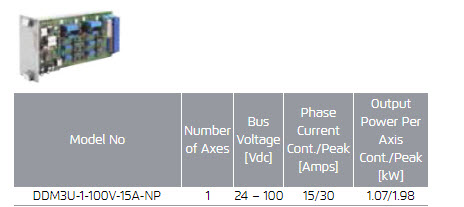 LDM Linear Drives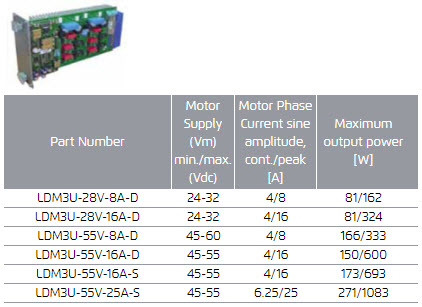 A Line of Matching Power Supplies
A wide range of power supplies is available to match the motor drives with bus voltages ranging from 28Vdc to 560Vdc. An MC4U configuration can include two supplies in a single enclosure to support two voltages or enhance power. The high voltage supplies include a shunt regulator and a 100W regeneration resistor. If addition regeneration capability is needed, an external 600W shunt resistor is available.
Power Supply Modules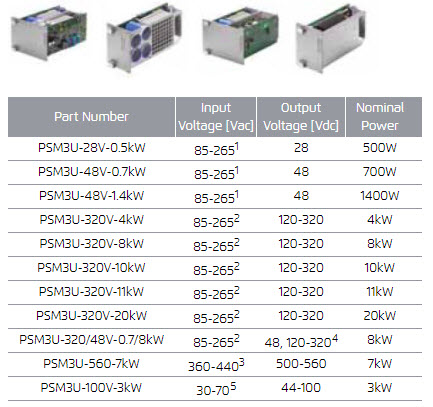 1 Single phase
2 Single or three phase
3 Three phase
4 Features dual bus voltage outputs of 48Vdc and up to 320Vdc
5 To achieve the best jitter and smoothness when powering a NanoPWM or LDM drive, it is recommended to feed this supply from an external, well regulated DC power source.