MC4U – Customized Multi-Axis Modular Control System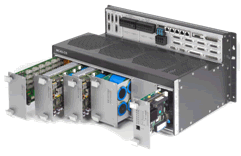 The MC4U (Machine Control for You) modular system is designed to provide a full solution for applications that require high performance, multi-axis machine and motion control. The MC4U includes up to 8 digital universal drives and as a CAN open network master can control up to an additional 64 distributed axes and I/O nodes. The MC4U free software support package includes a rich set of powerful tools with full simulation capabilities for easy setup, tuning, application program development, debugging and diagnostics.
To Demand - Higher Throughput & Accuracy at a Better Price
The machine automation world is highly diversified in its needs: user requirements differ significantly, allowing very little product standardization. The market demand is for an integrated solution of machine control that can be easily tailored to a specific application, achieving higher throughput and accuracy at a better price.
New Concept – Integrated Customized Solution from Standard Components
The MC4U high performance control system integrates a selection from a wide set of available components – multi-axis controllers with networking capabilities, universal drives and power supplies; providing complete control of all machine automation functions (motion, logic, power and data), resulting in shorter development cycle time, reduced risk and lower costs.
Configured from a range of:
Multifunctional Controllers
Universal Motor Drives
Power Supplies
Compact Enclosure
Powerful Software Package
The Market - High Performance Production, Test and Inspection Systems
Developed for production, test and inspection equipment, such as flat panel displays, semiconductors, electronic assembly, general sub-micron automation and medical applications, the MC4U is the first cost-effective and flexible tailor-made solution that addresses all motion and machine control needs of demanding machinery.
All in one solution:
High precision
Axes synchronization
Motion and PLC
High dynamics
Complex kinematics
Customer Benefits – More Features for Less Money
The MC4U cost-effective approach takes into account the total cost of ownership:
Lower cost through integration – The high level of integration eliminates many common components.
Reduced price – You pay for and get exactly what you need, without spending money on "unneeded premiums".
Short delivery time – Delivery time for MC4U tailored to your specific needs is 2 weeks.
Reduced maintenance time and costs – Failures are identified at the component level. No need to replace the complete system. All components are plug-in types and can easily be replaced without disconnecting motors and I/Os. The system can be reactivated within minutes.


New Enhanced Set of Features
Scalability –The MC4U is also a CANopen network master. Up to 64 nodes of axes (for a total of 72 axes!) and I/Os can be added.
Enhanced Software – The new MMI (Man Machine Interface) comprises a complete set of tools for application development and debugging, axes tuning for optimal performance and powerful diagnostics that simplify maintenance. A controller simulator is provided with every tool. The user can develop applications and host programs using the simulator without any hardware..



PLC programming – The MC4U is PLCopen compliant and, in addition to ACSPL+ motion programming language, it can also be programmed in one of IEC61131-3 standard PLC languages:
Ladder login diagram (graphical)
Function block diagram (graphical)
Structured text (high level Pascal-like)
IL-instruction list (low level Basic language)
Sequential function Chart (SFC)
MC4U Components – A rich Set to select from

All controllers, drives and supplies are plug-ins complying with standard European 3U form factor.


Machine & Motion Controllers
SPiiPlus 3U – High performance motion controller for up to 8 centralized axes.
SPiiPlus 3U-LT – Economical controller for up to 8 centralized axes. Up to 64 nodes of additional CANOpen drives and I/Os can be added. A wide range of third party I/O, integrated step motor and servo drives with CANOpen are qualified and supported.
Universal PWM drives for every type and size of motor…
Excellent for large table applications, the DDM series of high performance drives provide a cost-effective solution featuring current loop digital control, low noise, low position jitter and smooth constant velocity. Each drive can be programmed to control one of the following motors: AC Synchronous (DC Brushless), DC Brush, Step motor with high resolution micro steps and AC Asynchronous (AC Induction).

Drive

Part Number

Axes per Card

Motor Bus Voltage

Nominal/Peak Current

DDM3U-4-60V-2A

4

24-60Vdc

2.5A / 5A

DDM3U-2-320V-5A

2

48 Vdc or
120-320 Vdc

5A / 10A

DDM3U-2-320V-10A

2

10A / 20A

DDM3U-2-320V-20A

2

20A / 40A
... and matched Power Supplies

Power Supply

Part Number

Input Voltage (Vac)

Bus Voltage (Vdc)

Power
(kW)

PSM3U-48V-0.7kW

85-265

48

0.7

PSM3U-320V-8kW

85-265

120-320 (Vac x 1.4)

8

MIX
PSM3U-320/48V-0.7/8kW

85-265

48 & 120-320 (Vac x 1.4)

0.7 & 8
Additional Accessories
Motor filters for improved performance (MC4U-MF-CD) – Better position jitter and smooth velocity can be achieved by using ACSmotor filters that attenuate the common and differential mode noise induced by PWM switching of high current.



Regeneration shunt resistor (MC4U-Regen) – If required, an external shunt resistor of 300W or 600W can be connected to absorb more energy in the event that the built-in 100W resistor is not enough.