Optimal Use of Magnetic Flux
The tubular design of Copley Linear motors makes optimal use of the magnetic flux. All of the coils cut all of the flux at right angles. A large air gap is possible and the symmetrical design is unaffected by misalignment.
Superior Thermal Charecteristics
The tubular motor has superior thermal efficiency radiating heat uniformly. Copley motors have a high duty cycle capability without the need for forced air cooling.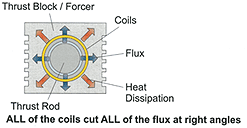 Large Air Gap
no precision alignment required easy installation


Coils Surround Magnets
heat easily dissipated, all of the coils cut all of the flux


Compact Cross Section
similar to ball screw


Tubular Symmetrical Design
no attraction forces, highly efficient


Integral Heat Sink fins
no forced cooling required


Quiet Design
meet CE emission requirements


Rugged Load
Bearing Housing
precision mounting surfaces, low overall moving mass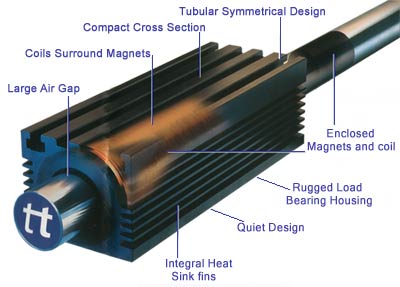 Enclosed Magnets and Coil
Protective housing and rod sealed for harsh environments